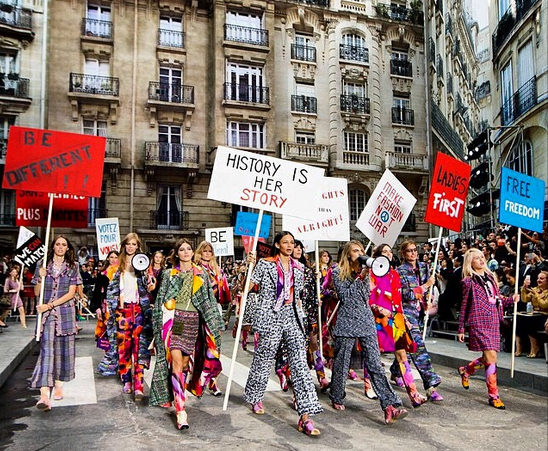 Whilst some have labelled fashion as… at times shallow and pretentious, Largerfield's 'protest presentation' (Chanel Spring Summer 2015, Paris) has shed light on the many issues the modern woman faces and sparked discussions about feminism and gender inequality. This is the 21st century! One might think that gender inequality is such an absurd topic to raise. However, the recent events and news tell otherwise: Satya Nadella-CEO of Microsoft said at the Grace Hopper Conference "It's not really about asking for the raise, but knowing, and having faith that the system will actually give you the right raises as you go along….That, I think, might be one of the additional superpowers that, quite frankly, women who don't ask for a raise have. Because that's good karma. It'll come back! Because somebody's gonna know, 'That's the kind of person that I want to trust. That's the kind of person that I want to really give more responsibility to.' And in the long-term efficiency, things catch up!"  I was literally gawking when I read this online !
And to add ; the Only – Men UN conference on gender equality held in Iceland. Women were barred from even discussing gender equality issues at the UN conference!
This is the 21st century where feminism is 'cool' and promoted by several A-list celebrities. What we really need is not a billboard but real, deeper actions. Our voices still need to be heard; from our work places to our homes. Each and every situation is an opportunity for gender equality. It should be He for Her and Her for Him.
What are your thoughts on this? Do share!

Illustration of the Chanel Show. Models wearing Givenchy and Stella McCartney SS'15 (Pen and Ink – Colored with Photoshop)
Illustrated image here is a Copyright of FAMUSHU no part of this image must be used in any way without the prior written permission from FAMUSHU