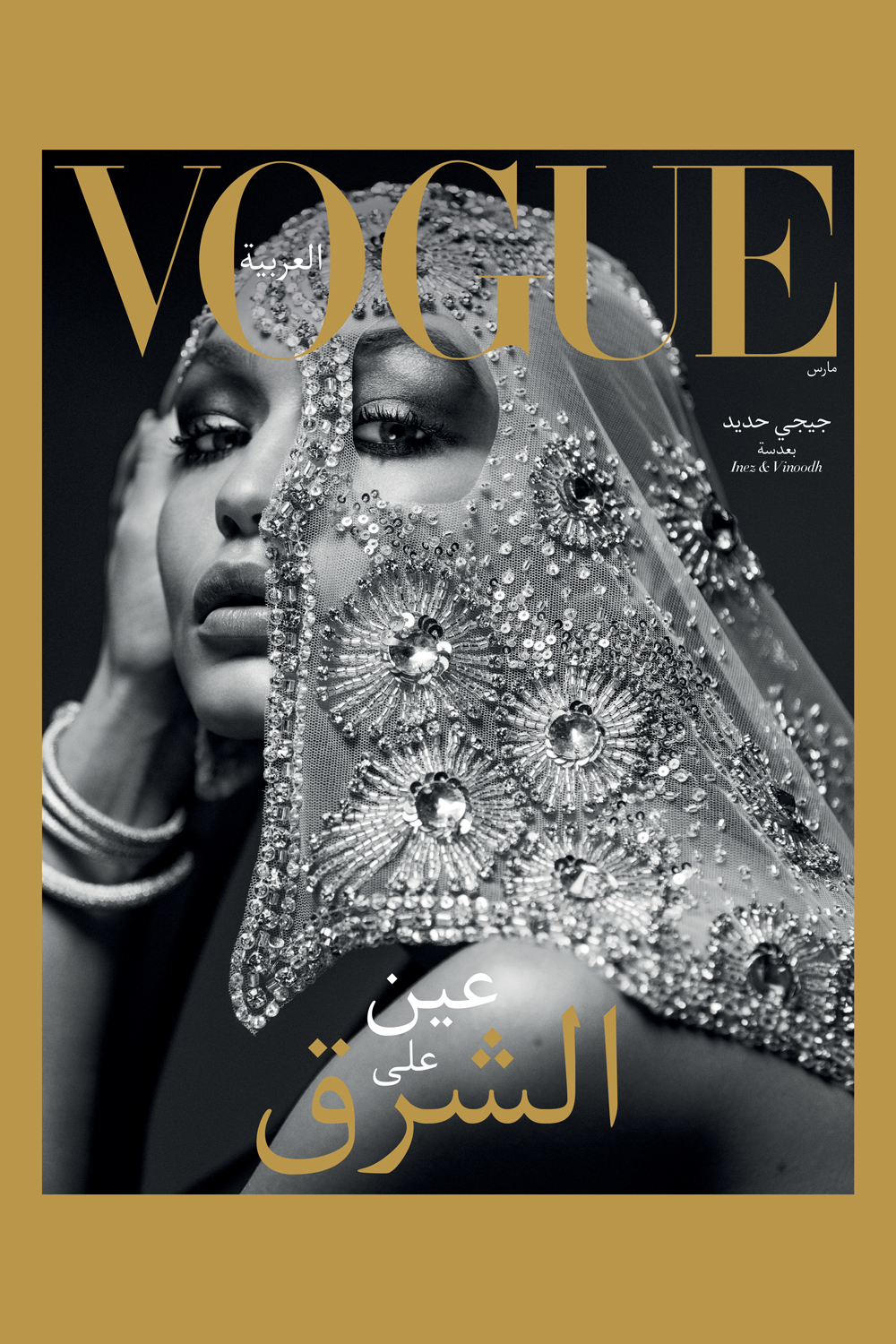 A jewel encrusted veil custom-designed by Brandon Maxwell drapes over a sublime Gigi Hadid. The captivating black and white photograph is shot by the one and only Inez and Vinoodh for Vogue Arabia's first print edition.
The first of it's kind. Launched digitally last Summer, Vogue Arabia is also the pioneering edition to represent an entire region. Whilst Vogue celebrates it's 125th anniversary this year, it's 22nd edition breaks stereotypes and as it says on the cover is "reorienting perceptions".
Vogue Arabia is a fusion of the West and Middle East. According to it's Editor-In-Chief Dheena Aljuhani Abdulaziz "The collage of countries across the Arab world are long deserving of a place in fashion history". The street style star, mother of three, business woman and Princess (yes you read that right!) adds that Gigi; who is also half Palestinian is most fitting to grace the cover of Vogue Arabia's inaugural print edition "…a model who defines tomorrow's entrepreneurial and dynamic generation"she added.
Having Gigi on the cover might have created some controversy, as many questioned on the instagram page of Vogue Arabia; why another model was not given the opportunity. But Gigi quickly stepped into remind everyone of her roots "Being half-Palestinian, it means the world to me to be on the first-ever cover(s) of Vogue Arabia, and I hope this magazine will show another layer of the fashion industry's desire to continue to accept, celebrate and incorporate all people & customs and make everyone feel like they have fashion images and moments they can relate to …& learn and grow doing so".
The full issue hits newsstands on March 5th 2017, available across the MENA region as well as London, Paris and Milan.